Services
Software
Development
for Logistic
IT solution for logistic companies is one of our main areas of expertise We've been developing advanced solution for logistic companies since 2020.
IT Services for
Logistics We
Offer
Our offered Logistics Software Development Services encompass all facets of industry processes, elevating business performance.
Third Party Integrations Integrating tailor-made supply chain management software with internal systems, external aggregators, and carrier tools through shipping APIs and EDIs.
Automation and Optimisation Enhancing the efficiency of customer logistics software through the automation of manual processes.
Custom Software Development Crafting customized Supply Chain Management (SCM) and logistics solutions tailored to customer-specific business processes, industry standards, and distinctive UI/UX designs.
Support and Maintenance Maintaining existing solutions to align with the latest logistics standards encompassing security, usability, and interoperability.
Digitalisation
of Logistic
Businesses
From a single solution for integrating with an existing structure, to turn-key development encompassing every aspect of the business.
Warehouse Tech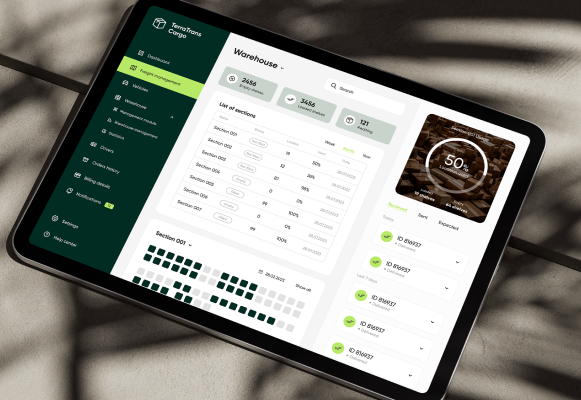 Warehouse Management Systems (WMS)
Warehouse Structure and Hierarchy
Sections Usage
Navigation between shelves
Automation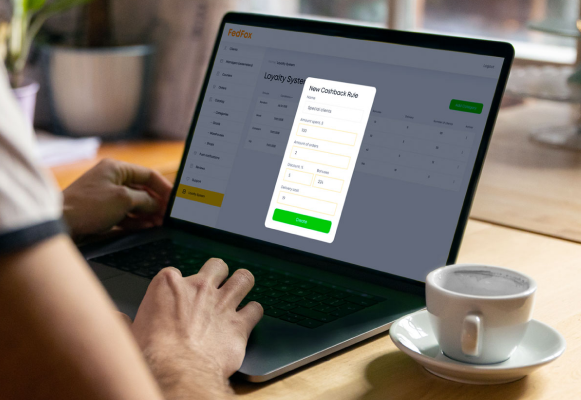 Order Picking and Fulfillment
Optimizing Order Picking
Real-time Order Updates
Enhancing Warehouse Efficiency
Precision in Inventory Management
Streamlining Order Fulfillment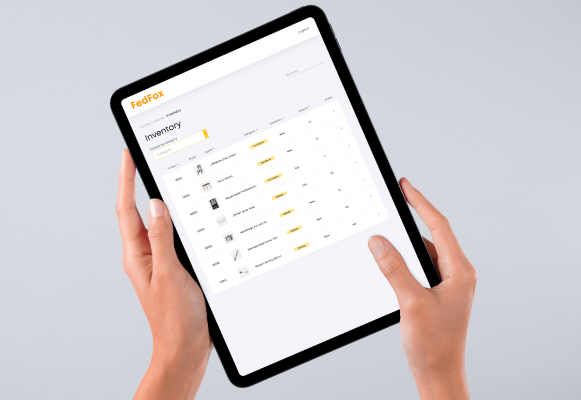 Asset Management Systems
Products and categories
Search, advanced filters, bulk actions
XLS, CSV exports
Orders and receipts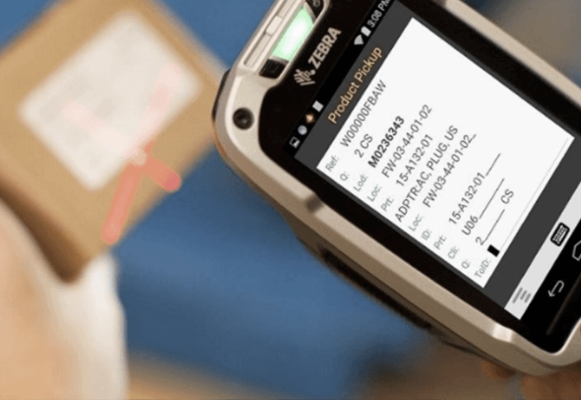 Mobile and Wearable Technologies
Barcode scanner
Warehouse navigation
PUSH notifications
Faster communication
Transportation Management
Systems (TMS)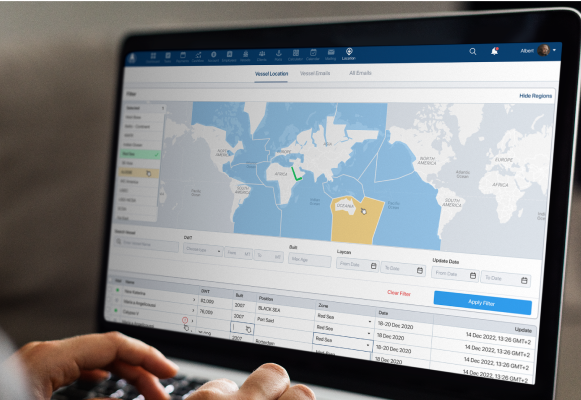 Freight Tech
Supply chain management and the movement of freight
Capacity optimisation
Shipment control
Inspections and Reports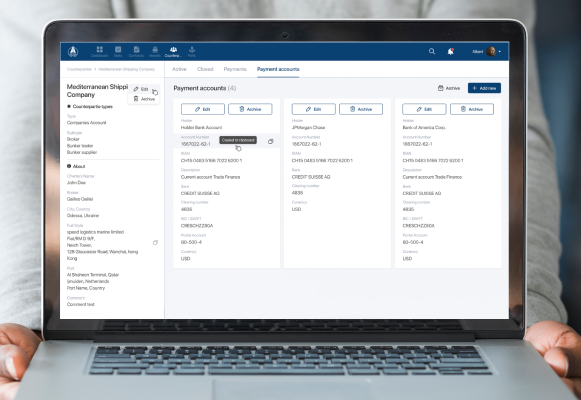 Platform for Clients or Partners
Parties could manage their orders in a special cabinet
Contracts, Payments and other activities
Assign responsible managers to partners
Improved customer support and communication
Route, Mode and Carrier Optimisation
See all routes taken by driver and be sure that he didn't spend business resources for personal errands
See statistics of deliveries and control efficiency of employees
Setup area for delivery
Or separate areas for paid deliveries with various tariffs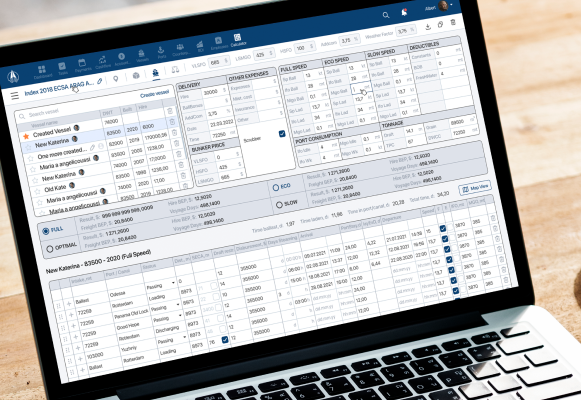 Fleet management
Manage fleet and roster
Schedule and plan
Manage Contracts
Finances and cashflow
Last Mile Delivery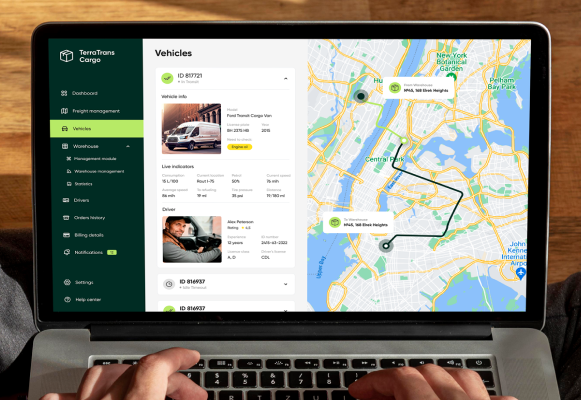 Auto Dispatching
Complex algorithms allow to automatically decrease manual activities
Assign order to driver and then to a vessel
Prepare order to be sent
Track delivery progress
Automatically create required documents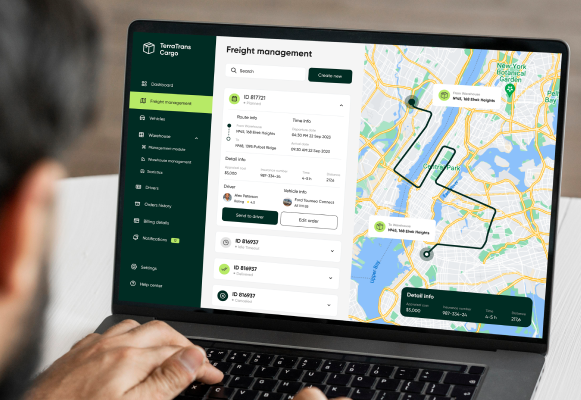 Route Planning and Real-time Route Optimisation
Automatically build the most efficient route based on order details
For Sea logistic: consider ECA zones, piracy zones, channels, etc.
Consider fuel consumption, cost of hire and other factors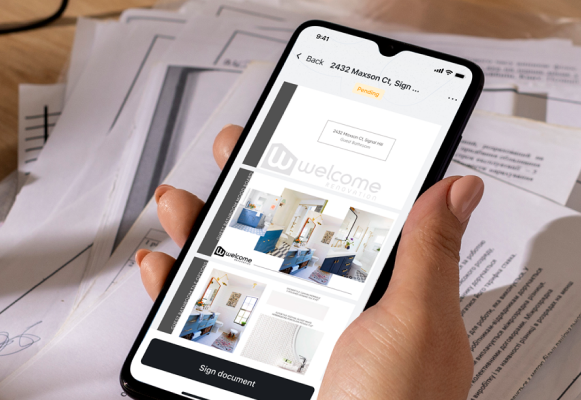 Digital Proof of Delivery
Digital signature
OpenCV scanner for documents
Photos with time and geolocation marking
Unique QR or SMS code to confirm delivery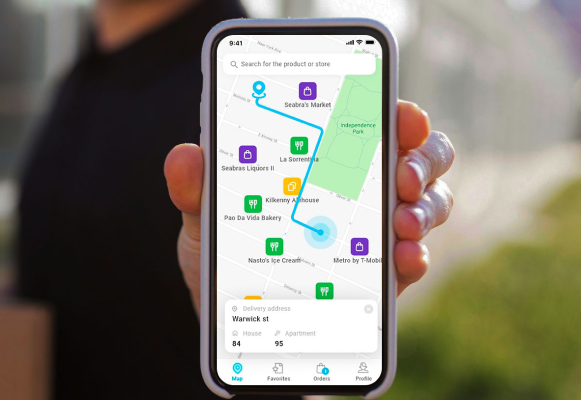 Smart Tracking
Track your fleet
Your clients could track their orders
Control fuel consumption, speed and drive accuracy
CRM / ERP Admin Back Office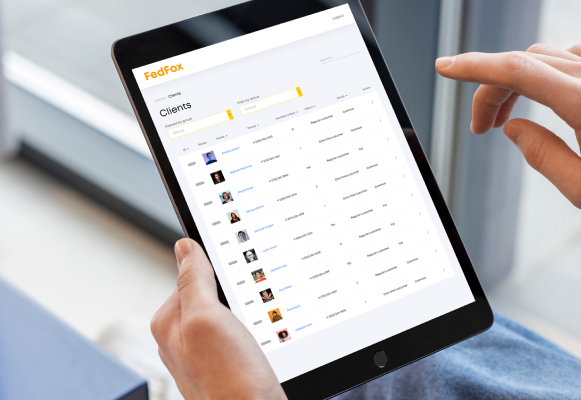 Accounting
Automatise processes or pick orders manually
Manage Up-Sales and Cross-Sales
One database of your customers: average check, usual time of visits, birthdays and more
See overall info or segmented, or simply by every customer individually
Gain clearer picture of your business.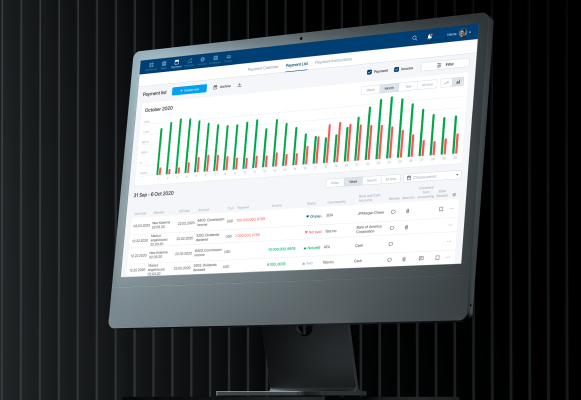 Invoicing
Control your cashflow, see detailed info of income and expenses
See predictions and build sales plans
Manage invoices from your vendors and create ones for corporate clients
Manage payrolls and taxes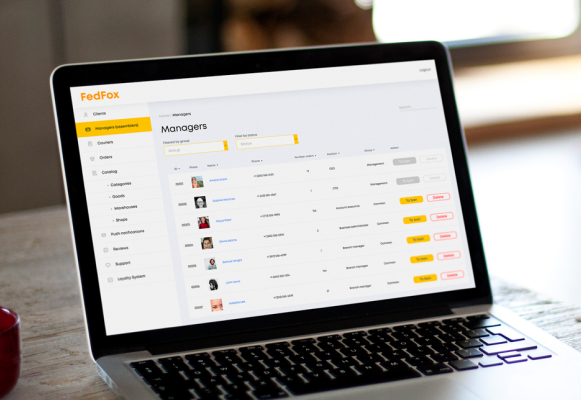 Order Management
Centralize company management
Organize staff and shifts
Manage branches, and responsible managers with special access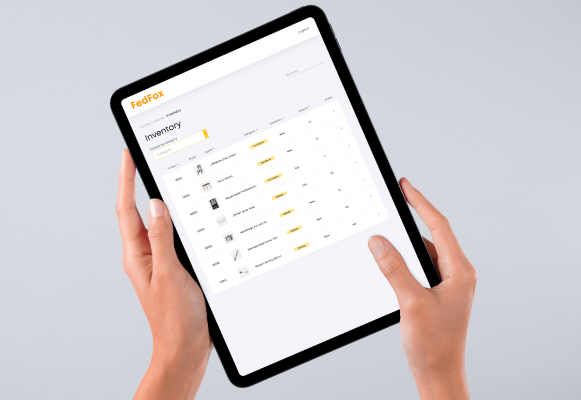 Manage Inventory
Add recipes to each food
Be notified when you soon out of something
Manage working tools
And more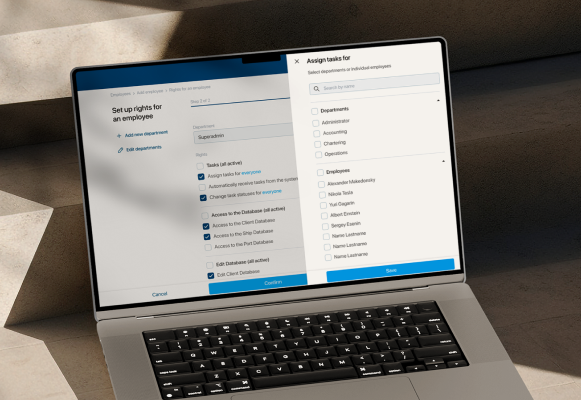 Setup Rules and Permissions
Limit access of certain users to specific sections of your admin panel
Control every action performed in change log
Build hierarchy within the company or within each separate branch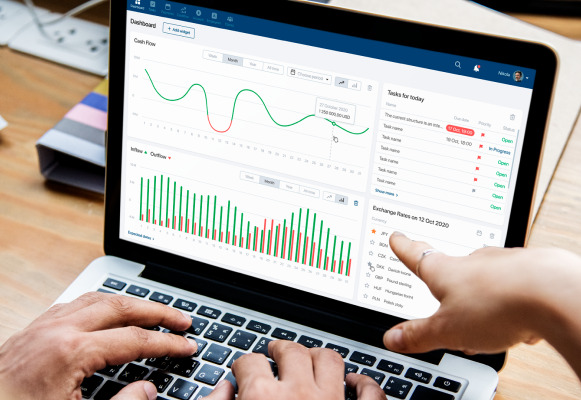 Various Reports and Data
Setup reports on each and every aspect of your business.
Export XML or CSV files
See live charts on the dashboard screen
Analyse and make predictions on your business health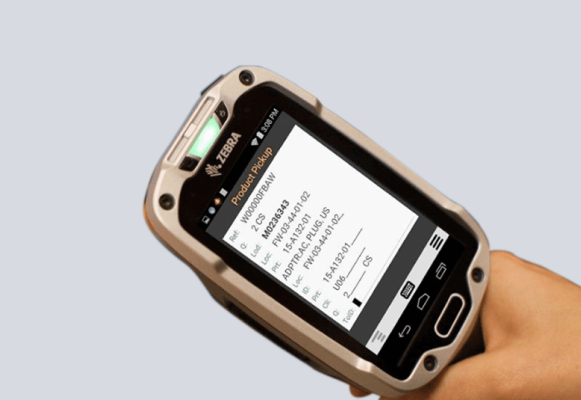 Continues Integrations
We integrate our software with other software that you might already use:
IOT devices
Accounting software
Other whitelabel solutions
Allow us to help you build your next venture
Leave a request and our manager will contact you shortly.
Ratings and awards
After 5 years of hard work in the industry - we're recognized as market leaders, consistently rating amongst the top software development companies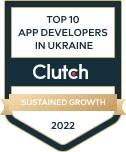 Top 10
in the rating of the best App Developers in Europe
CLUTCH, 2022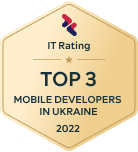 Top 3
in the rating of the best Mobile Developers
IT-RATING.COM, 2022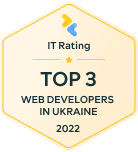 Top 3
in the rating of the best Web Developers in Ukraine
IT-RATING UKRAINE, 2022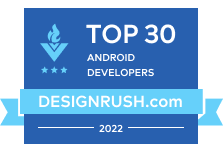 Top 30
in the rating of the best Android Developers
Designrush, 2022
F.A.Q.
How much does it cost to develop a mobile app?
The cost of developing a mobile app can vary significantly based on a range of factors, such as the complexity of the app, the platforms it will be available on (iOS, Android, or both), the number of features and functionalities it will include, the use of any advanced technologies (like AR/VR, AI, Machine Learning), and the overall design and user interface. Generally, a basic app can start anywhere from $15,000 to $25,000, while more complex applications can cost upwards of $50,000 to $150,000, or even more. It's important to note these are just rough estimates. We provide a detailed cost breakdown for every project after carefully analyzing the client's requirements and objectives. We also offer flexible pricing models to cater to various budget needs.
How long does it take to build a mobile app?
The time it takes to build a mobile app can vary greatly depending on the complexity of the app, the number of features, the platform(s) it's being developed for, and many other factors. On average, a simple app with basic features can take between 1 to 3 months. A more complex app, with multiple features and advanced functionalities, could take anywhere between 6 to 12 months or even longer. These timelines include all stages of the app development process, from initial concept and planning, through design and development, to testing and launch. We work closely with our clients to establish a clear timeline and keep them updated throughout the development process. It's our goal to ensure the highest quality while also delivering on time.
How much does it cost to maintain an app?
The cost of maintaining an app depends on several factors such as the complexity of the app, the number of platforms it's on, user base, server costs, and how frequently new content, updates, or patches are released. On average, you can expect to spend around 15-20% of the initial development cost on maintenance each year. This includes costs for hosting, monitoring, support, app updates, bug fixes, and complying with any new OS requirements. For instance, if your app cost $100,000 to build, you might expect to spend about $15,000 to $20,000 per year to maintain it. It's important to remember that these are average figures and actual costs can vary. Regular maintenance is crucial to ensure your app continues to function properly, stays secure, and offers a great user experience. We provide detailed maintenance plans to our clients tailored to their specific needs and budget.
How should I decide between a native and a cross-platform app?
Choosing between native and cross-platform app development depends on several factors:
Performance: Native apps generally perform better as they are built specifically for a single platform, leveraging the full potential of the device's hardware and features.
User Experience: Native apps can provide a superior user experience as they follow the specific UI/UX guidelines of each platform (iOS or Android).
Development Time and Cost: Cross-platform apps can be developed faster and are often more cost-effective as one codebase can be used to deploy on multiple platforms.
Features: If your app requires the use of specific hardware features of a device or advanced capabilities, native development might be the better choice.
Maintenance: Maintaining a cross-platform app can be easier since changes have to be made only in one codebase, but platform-specific issues can sometimes pose challenges.
In the end, the decision should be based on your business needs, target audience, budget, and timeline. We can help you make an informed decision by discussing the pros and cons of each approach in relation to your specific project requirements.
Allow us to help you build your next venture
Leave a request and our manager will contact you shortly.