Services
Web Development
Python Node.JS PHP JS Vue.JS Nuxt.JS
We've developed dozens of successful iOS apps across various industries, with a total user base of over 8 million. From custom design and animation to essential features like messaging, calls, VPN, and analytics, we have the skills and experience to bring your app to life.
SaaS is our main area of expertise We have successfully developed a number of projects that have brought great value to our customers.
Our services for
custom development
SaaS Custom CRM, ERP or other SaaS solutions to streamline business operations and improve performance From sales automation to financial management, our solutions will help you manage and grow your business efficiently.
E-commerce Custom platform development tailored to your specific business needs, enabling seamless online sales. Whether you're looking to launch a new online store or revamp an existing one, we will help you achieve your e-commerce goals.
Corporate Corporate website development, designed to enhance your online presence and increase brand awareness. We excel in creating responsive and user-friendly websites that reach your target audience and achieve your business goals.
Landing Page High-converting landing pages that effectively communicate your message to your target audience and drive conversions. From basic lead generation pages to complex promo websites, we have the expertise to bring your vision to life.
How we can work on your custom mobile app?
Project Outsourcing Expertly handle any project with our flexible outsourcing solutions. Trust us to deliver on-time and within budget Team Augmentation Expert team augmentation services to enhance your in-house development team and deliver projects on time
Development
Process
Our development lifecycle is a structured approach to software development that ensures a high level of quality and consistency in the products we deliver.
Discovery
UX and UI Design
Development
Testing and QA
Discovery
This step helps us to understand the product requirements and to develop a clear strategy for building a successful product
We approach web development with a systematic process that guarantees a high level of quality in the final product.
Our process starts by carefully analyzing your project idea, taking into account its market viability and business potential. This in-depth analysis during the initial phase allows us to anticipate any potential obstacles and devise a cost-effective plan for building your website.
We also provide a detailed estimate of the timeline and budget for your project.
Once the planning phase is complete, you will receive an interactive prototype of your website for testing. Additionally, we work closely with you to finalize the design during this phase of the web development process.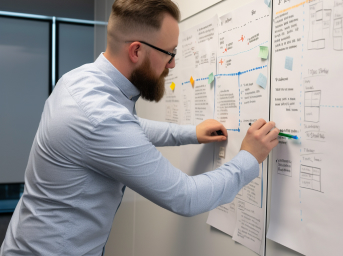 Our process includes:
Market and competitors analysis (if required)
Development of an interactive product prototype
Verification of functionality to ensure compliance with technical standards and guidelines
Development of Scope of Work and a product backlog
Creation of a project mind map
Let's talk
Let's talk
F.A.Q.
How much does it cost to build a website?
The cost of developing a website can significantly vary based on a multitude of factors. These can include the complexity of the site, the number of pages, custom features and functionalities, the need for integration with other systems or databases, the type of content management system (CMS) used, and whether it's a static website or a dynamic one.
A basic, static, brochure-style website can cost anywhere from $1,000 to $5,000.
A more advanced website with custom design and some interactive features, or a small e-commerce site can range from $5,000 to $15,000.
Large-scale, complex websites, such as e-commerce platforms, social networks, or enterprise websites with multiple integrations, can easily cost from $15,000 to $100,000 or even more.
Remember, these are broad estimates. We always provide a detailed, project-specific quote after a comprehensive discussion with our clients about their needs and goals. Additionally, you should also consider costs for website maintenance, updates, hosting, and domain registration, which are usually ongoing expenses.
How much does it cost to develop a CRM or ERP?
The cost to develop a Customer Relationship Management (CRM) or Enterprise Resource Planning (ERP) system can greatly depend on several factors such as:
Customization: The level of customization required can significantly impact the cost. A completely custom-built solution is typically more expensive than one that uses off-the-shelf components.
Scale: The number of users who will be using the system, the volume of data it will manage, and the complexity of your business processes will also influence the cost.
Features: The range and complexity of the features you want in the system, like sales force automation, customer service management, marketing automation, inventory management, finance management, etc. will determine the overall cost.
Integration: Costs may increase if the system needs to be integrated with other existing software or platforms.
Deployment: On-premise solutions can have a different cost structure compared to cloud-based solutions.
A simple CRM or ERP system can start from around $20,000 to $30,000, while more complex systems can cost anywhere between $100,000 to $500,000 or even more. It's important to remember that these are just rough estimates, and actual costs can vary based on the specifics of the project.
After deployment, there will also be ongoing costs for system maintenance, updates, training, and possible future enhancements. We always provide our clients with a detailed cost estimate after thoroughly understanding their requirements.
How much does it cost to maintain the website / CRM / ERP?
The cost of maintaining a website, CRM, or ERP depends on several factors including the complexity of the system, the frequency of updates, hosting services, backup and security services, and technical support needs.
Website Maintenance: Generally, website maintenance can cost anywhere from $500 to $12,000 per year. This would include updates to content, SEO optimization, hosting, domain renewal, security updates, and other minor adjustments. If your site is larger, more complex, or e-commerce-based, the maintenance cost can be higher due to more frequent updates and monitoring required.
CRM/ERP Maintenance: The maintenance cost for a CRM or ERP system typically ranges from 10% to 20% of the initial implementation cost per year. So, for a system that cost $100,000 to implement, you might expect to spend $10,000 to $20,000 per year on maintenance. This would cover updates, user support, adding or modifying features, training, system optimization, and ensuring security and data integrity.
These are general estimates and actual costs can vary based on your specific requirements. Regular maintenance is crucial for ensuring that your website or system remains up to date, secure, and effective in meeting your business needs. We offer maintenance packages that can be tailored to your needs and budget.
Why is custom development a better choice for me?
Opting for custom software development can bring numerous advantages, especially if your business has unique needs that cannot be addressed by off-the-shelf solutions. Here are a few reasons why custom development could be a better option for you:
Tailored to Your Needs: Custom development allows you to build software that is perfectly aligned with your business objectives and specific operational requirements. You get to decide what features and functionalities are essential to your operations, and these can be incorporated into your software.
Scalability: Custom software can grow with your business. As your needs evolve, additional features can be integrated, and the system can be scaled to handle more data or users without a drastic overhaul.
Integration: Custom software can be designed to integrate seamlessly with the other tools or systems your business is already using. This can significantly improve efficiency and productivity, by enabling different systems to work together.
Competitive Advantage: Custom software can give you a significant edge over your competitors. By automating processes, improving user experience, or offering unique features, you can set your business apart.
Security: Custom software can be built with robust security measures tailored to your specific needs. This can help to protect your business data and provide peace of mind.
Cost-Effective Over Time: While the upfront cost of custom software might be higher, it can prove to be cost-effective in the long run. You avoid recurring license fees, and since the software is tailored to your needs, it can improve efficiency and productivity, providing significant ROI.
Remember, the decision to go for custom development should be based on your business's unique needs, size, budget, and future growth plans. We can help you evaluate your needs and guide you in making the best decision for your business.
Allow us to help you build your next venture
Leave a request and our manager will contact you shortly.