Services
Mobile Development
Swift Objective-C Kotlin Java Flutter
We've developed dozens of successful iOS apps across various industries, with a total user base of over 8 million. From custom design and animation to essential features like messaging, calls, VPN, and analytics, we have the skills and experience to bring your app to life.
Mobile development is our main area of expertise We've been developing high-quality mobile apps since the dawn of the industry in 2010.
Our services for
mobile development
iOS apps Native iOS applications for iPhone and iPad, tailored to your unique requirements and designed to cater to your specific needs. Our team has the experience and knowledge to develop top-quality apps that have been used by millions of users.
Android apps Custom-built Android applications, designed to meet your specific business needs and enhance user engagement. From simple to complex, our team has the knowledge and expertise to deliver top-notch Android development services
Flutter Cross-platform development for creating high-performance apps for both iOS and Android with a single codebase. Faster development, lower costs, and a single codebase for multiple platforms - great solution for your MVP.
TV & wearables Engaging and user-friendly native apps for TV and wearables devices such as Apple TV, Android TV, and smartwatches. From UI design to integration with other devices and services, we consider unique features and capabilities of these platforms.
How we can work on your custom mobile app?
Project Outsourcing Expertly handle any project with our flexible outsourcing solutions. Trust us to deliver on-time and within budget Team Augmentation Expert team augmentation services to enhance your in-house development team and deliver projects on time
Development
Process
Our development lifecycle is a structured approach to software development that ensures a high level of quality and consistency in the products we deliver.
Discovery
UX and UI Design
Development
Testing and QA
Discovery
This step helps us to understand the product requirements and to develop a clear strategy for building a successful product
We approach web development with a systematic process that guarantees a high level of quality in the final product.
Our process starts by carefully analyzing your project idea, taking into account its market viability and business potential. This in-depth analysis during the initial phase allows us to anticipate any potential obstacles and devise a cost-effective plan for building your website.
We also provide a detailed estimate of the timeline and budget for your project.
Once the planning phase is complete, you will receive an interactive prototype of your website for testing. Additionally, we work closely with you to finalize the design during this phase of the web development process.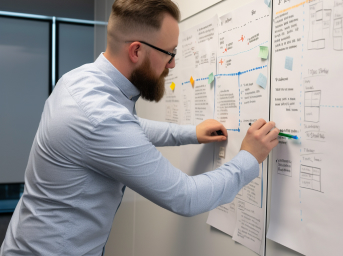 Our process includes:
Market and competitors analysis (if required)
Development of an interactive product prototype
Verification of functionality to ensure compliance with technical standards and guidelines
Development of Scope of Work and a product backlog
Creation of a project mind map
Let's talk
Let's talk
F.A.Q.
How much does it cost to develop a mobile app?
The cost of developing a mobile app can vary significantly based on a range of factors, such as the complexity of the app, the platforms it will be available on (iOS, Android, or both), the number of features and functionalities it will include, the use of any advanced technologies (like AR/VR, AI, Machine Learning), and the overall design and user interface. Generally, a basic app can start anywhere from $15,000 to $25,000, while more complex applications can cost upwards of $50,000 to $150,000, or even more. It's important to note these are just rough estimates. We provide a detailed cost breakdown for every project after carefully analyzing the client's requirements and objectives. We also offer flexible pricing models to cater to various budget needs.
How long does it take to build a mobile app?
The time it takes to build a mobile app can vary greatly depending on the complexity of the app, the number of features, the platform(s) it's being developed for, and many other factors. On average, a simple app with basic features can take between 1 to 3 months. A more complex app, with multiple features and advanced functionalities, could take anywhere between 6 to 12 months or even longer. These timelines include all stages of the app development process, from initial concept and planning, through design and development, to testing and launch. We work closely with our clients to establish a clear timeline and keep them updated throughout the development process. It's our goal to ensure the highest quality while also delivering on time.
How much does it cost to maintain an app?
The cost of maintaining an app depends on several factors such as the complexity of the app, the number of platforms it's on, user base, server costs, and how frequently new content, updates, or patches are released. On average, you can expect to spend around 15-20% of the initial development cost on maintenance each year. This includes costs for hosting, monitoring, support, app updates, bug fixes, and complying with any new OS requirements. For instance, if your app cost $100,000 to build, you might expect to spend about $15,000 to $20,000 per year to maintain it. It's important to remember that these are average figures and actual costs can vary. Regular maintenance is crucial to ensure your app continues to function properly, stays secure, and offers a great user experience. We provide detailed maintenance plans to our clients tailored to their specific needs and budget.
How should I decide between a native and a cross-platform app?
Choosing between native and cross-platform app development depends on several factors:
Performance: Native apps generally perform better as they are built specifically for a single platform, leveraging the full potential of the device's hardware and features.
User Experience: Native apps can provide a superior user experience as they follow the specific UI/UX guidelines of each platform (iOS or Android).
Development Time and Cost: Cross-platform apps can be developed faster and are often more cost-effective as one codebase can be used to deploy on multiple platforms.
Features: If your app requires the use of specific hardware features of a device or advanced capabilities, native development might be the better choice.
Maintenance: Maintaining a cross-platform app can be easier since changes have to be made only in one codebase, but platform-specific issues can sometimes pose challenges.
In the end, the decision should be based on your business needs, target audience, budget, and timeline. We can help you make an informed decision by discussing the pros and cons of each approach in relation to your specific project requirements.
Allow us to help you build your next venture
Leave a request and our manager will contact you shortly.